As the capital of the UK, London is no doubt a holiday destination that you may decide to explore for either a long or a short stay. This iconic city has held millions of tourists in awe for centuries.
Moving around to see different nice places around the city will definitely leave you with an unforgettable experience.
Some of the places to enjoy whenever you are in London include:
1. Cotswolds
This is one of the best places to visit as you explore London. The Cotswolds' is just about a 2.5-hour drive from Central London and is convenient to sightsee on road trips.
The area has a sprinkle of villages, cottages, indie shops and little tea rooms as a tourist group, lone wolf or adventurer. You can't deny the fact that it stands as one of the five best road trips in London. It is a place that presents you the Slaughter, Tetbury and shop at Arlington Row. It is popular among foreign holiday explorers.
To make it much convenient for yourself, you can board a train to visit the wonderful places around this lovable UK destination.
2.West Sussex
From London, it's seen to be around 70-minutes' journey. To explore and enjoy the best of your road tour, you need to visit West Sussex. It is a very nice region to explore during your London tour.
Arundel Castle, Amberley Castle and Petworth House are notable picks you can list in your places to visit in London.
3. The Coca-Cola London Eye
The Coca-Cola London Eye has its location at the heart of the capital, and it is simply iconic and a must-see. It is 135-meter-high, which makes it the world's tallest cantilevered observation wheel; this is seen to be an enduring symbol of the English capital.
As a great global icon among attractions you cannot afford not to see in your lifetime, it has chalked up millions of reviews by tabloids and websites around the world. As a tourist, you are in for an awesome experience at the London Eye.
As a monument, it has given the city a recognizable pleasant identity. It takes you to a pinnacle in the skies that gives you the glaring picture of the city beneath you. It is therefore regarded as one of the most iconic London attraction.
4. The Walkie Talkie
The Walkie Talkie is an incredible monument you can experience in your London tour. It also holds the pride of place as one of London's latest and largest buildings.
It is a magnificent building with many floors complete with a Sky Garden on one of its highest floors. You will definitely have the fantastic feeling of being in one of the best tourist delights in the UK.
You can be sure to see the Shard and the Tower Bridge from this awesome edifice. It has Garden's restaurants where you enjoy drinking and dining; and cafe. The tickets are not sold i.e. access to the Sky Garden is free. However, Visitors must book tickets to access the Garden.
5. Hampstead Heath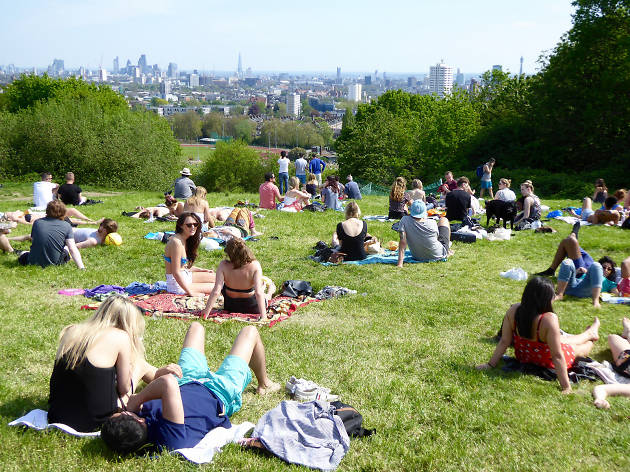 Hampstead Heath is a worthy mention among the most iconic places to see in London. Located in the North of London, only a few places draw the kind of traffic that this alluring London destination commands.
Among holiday explorers, this is one of the most famous open green spaces in London with a delightsome view. In this special location, you will find different trees, cascading greenery, wildlife and open-air swimming pools. It's a relaxation and sporting event center that you should have on your list of places to visit in London as a tourist.
Last Line
These top 5 spots to enjoy in London are a tourist's delight any day. As you prepare for your next trip to London, include these among your places to visit, and you will not be disappointed.