TOP US DESTINATIONS FOR WINTER
There are different travelers who travel for varied reasons. America is a top destination for people willing to explore varied types of climates. The huge array of destinations across the country leaves many tourists spoilt for choice
Whether your mind is made up as to where to go this winter for your holidays or not, you can be rest assured that we are here to help. Nevertheless, there are some beautiful places that give room for excitement when winter rolls in.
Check out the following places:
MATANUSKA GLACIER, ALASKA, USA
Have you ever thought about seeing a glacier, not through pictures but directly where it is? Matanuska is one of the destinations in US during winter where a glacier can be seen and touched. How wonderful that can be! It is seen to be the largest glacier which is 27 miles long and four miles wide.
This glacier is a two and a half hours' drive from Anchorage with a close proximity with Glenn Highway. There is an opportunity to snap pictures during the pull-offs. That is really cool.
2.MIDWAY, UTAH, USA
This is a very gorgeous place to go during the winter. It's at the West of Heber city. It's an amusing area for skiing, horse-drawn sleds and where other splendid and flamboyant sights can be explored. Artists annually build the ice castles for aesthetics purposes and for visitors' exploration.
You can't resist the charming appearance of such a place. Other things to enjoy are snowmobiling, tubing, Ice skating, snowshoeing, homestead crater, sleigh rides, and Heber Valley Railroad. This is another coolest US destination for winter!.
3.MAMMOTH CAVE NATIONAL PARK, KENTUCKY, USA
The location of Mammoth Cave is at the very best position in Kentucky. It is known to be the longest cave system in the world. It is annually visited annually by about 2 million visitors in which half of them prefer taking a cave tour.
It's a wonderful destination in US even during winter as it regulates the temperature when the surroundings begin to freeze i.e. it serves as a warm refuge. The cave has a consistent temperature..
4. LAKE TAHOE, CALIFORNIA, USA
Lake Tahoe is high up in the Sierra Nevada Mountains. Lake Tahoe is a very nice destination to be for winter as visitors flock it in the winter. It is a place where visitors enjoy to the maximum as they ski, watching of birds, nature hiking and other activities that they can enjoy during winter. Lake Tahoe has over a dozen ski resorts.
The northern part of Lake Tahoe is very serene during winter. Lake Tahoe gets the outpour of about 5 inches of snow annually which gives room for making snowman if nothing is on ground to be done. That is pretty you think? Yes, of course!
5.WHITEFISH, MONTANA, USA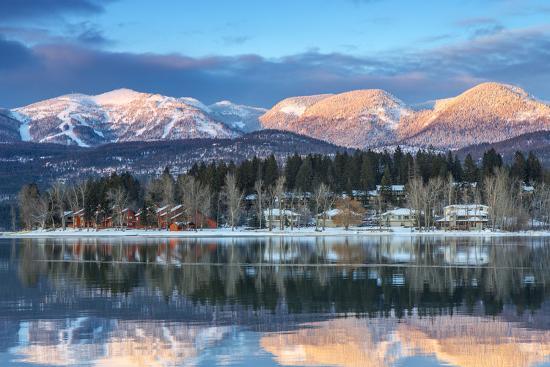 Whitefish is located in the Rocky Mountains of northwest Montana .It's a lovely place during winter which you will like to explore.
It welcomes close to 2 million visitors annually. There are lots to enjoy and to do at Whitefish being a perfect ski location for ski resorts and shops.
The reflection of the mountain in their state lake is a picturesque view that visitors enjoy. There is winter festival celebrated every year which you love to see.
Conclusion
Winter tours to America are varied and lots in coming, you can make a pick from the recommended spots here and enjoy your time out there in the snow.