Best Wedding Destinations in New York
New York, a city, recognised as the world's global business capital, also rates high in entertainment, finance, fashion, media, technology, and certainly not forgetting tourism.
With so many exquisite locations to visit, New York City utterly leaves you in a dilemma of confusion of where to go first. Hosting a wedding in New York City is also no exception. T
here are tonnes and tonnes of great locations you can choose from to host your wedding. Here are 5 of our recommended wedding destinations in New York City.
1.Brooklyn Winery
Brooklyn Winery is one of the best USA wedding destinations you can get. It features a small, yet large hall that can house up to 165 guests. Brooklyn Winery is one of the most sought out venues in New York City. It is loved most especially because of its fine garden wall that stretches from the top of the ceiling to the floor.
The greenery walls, the glass ceilings, the rustic interior design and the lighting of the whole room just makes Brooklyn winery even more perfect for a wedding ceremony. Words cannot describe the beautiful ambience of this venue or the perfection of the professional staffs, but instead, you need to go to this exceptional, exquisite location and find out for yourself.
2. Bryant Park Grill
The Bryant Park Grill is a restaurant cum wedding venue that hosts lots of ceremonies. Bryant Park Grill is in the centre of Manhattan, New York City. The Bryant Park Grill is a very convenient location to host a wedding because of its location.
It features a holding space of up to 210 guests, an outdoor garden, which is hard to come by in a momentous city like New York is available. The available menu at the restaurant is such that will tantalize your palate. Feel free to check out the Bryant Park Grill at any time for more enquiries about booking a space.
Also Read: Best Wedding Destinations in Scotland
3. Manhattan Penthouse on Fifth Avenue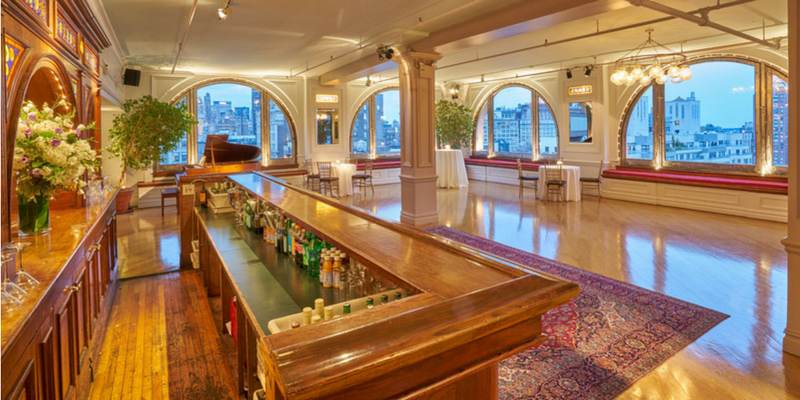 The Manhattan Penthouse is located on Fifth Avenue and 14th street. The Manhattan penthouse features an 8,000 square foot Beaux-arts sophisticated building that can house 200 guests. This beaux-arts building is opened and offers a 360-degree view of the city.
Catering services can be gotten in-house. What we love the most about this location is the perfect mix of modern loft with historic elegance.
4. Midtown Loft and Terrace
The Midtown Loft and Terrace is located In New York City, the fifth avenue to be precise. The Midtown Loft and Terrace is a perfect location for holding a perfectly elegant wedding.
It features a 4,000 square foot Terrace space, a retractable rooftop, so this venue is perfect all year round.  The loft space as well can be used in various ways and designed to suit your wedding style.
Also Read: Best Wedding Destinations in California
5. MyMoon Restaurant
The last on our list of the best wedding destinations in New York is the MyMoon restaurant. The MyMoon restaurant is a stylish Williamsburg, and Brooklyn restaurant. This restaurant can hold up to 150 guests or less.
The food, cocktail, photo ops, the garden space, the exceptional service, and so much more makes this location more perfect for a New York wedding.
Conclusion
There is no doubt that NYC offers much more for almost every facet of life. You can be sure that you will have a swell time if you pick any of the venues we have described here.