The Best 5 Bird Watching USA Destinations
Our world has such amazing natural phenomena that makes it a wonder to behold. For many bird watchers in North America, USA has got enough splendid spots to explore.
Around the world, there are different places that attract the attention of people based on the natural endowments that nature provides. Our universe is replete with different wonderful creatures, and birds are a lovely part of the composition.
There are different areas around the world where birds can be watched. The following can be considered as the best five birdwatching USA destinations:
Great Bend
Great Bend is located in Kansas in the US. It is a home for more than 134 species of bird in which some come visiting while some are bred. Most species of birds such as shorebird and piping plover find their ways to Great Bend to rest.
Piping Plovers are said to make a temporary stop in this area before heading towards the Gulf of Mexico. Great Bend can best be enjoyed from May to September. It is a place for you and your family and possibly with your friends to bask in the pleasure that nature offers.
Also Read: Discover The Warmth And Allures of Seychelles As You Plan A Tropical Getaway
2. Cape May
Cape May is a wonderful destination for birdwatching in the US. It is specifically located in New Jersey and descriptively on the shoreline of the Garden State. Different species of birds are discovered on a frequent basis making a stopover at Cape May before heading toward South during winter.
Returning birds during spring also do likewise. It's a lovely place where you have the opportunity to see different species of birds such as warblers. To add to the pulchritudinous view, Black Scoters and Surf Scoters are in the water. Believe me, this is an experience you can't afford to miss.
Factually, Cape May can be best visited from September to October. During this period, bird watching experience is at its peak as a great number of birds can be viewed with uttermost excitement.
Read Also: Do You Love Adventure? Here Is A List of The Top 5 Mountain Climbing Spots In The USA
3. Gibbon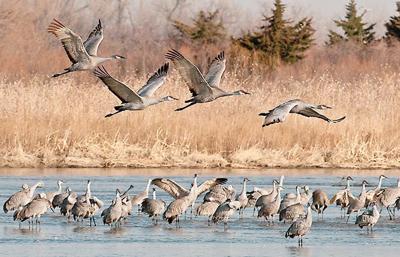 Gibbon is another special place prepared by nature for the best experience on birdwatching. Gibbon is located in Nebraska. The birds such as Sandhill Cranes and their returning create wonderful views that every bird lover will cherish.
As one of the best destinations in the US, Visitors who visit in March will have the opportunity to experience the Nebraska Crane Festival (An annual festival held in March).
4. Cameron
Looking for a very suitable and convenient place where you can enjoy birdwatching? Cameron, located in Louisiana, is one of the best places you can think of. It provides an abode for different species of birds such as Orchard Orioles, Cerulean Warblers, the Great Kiskadee, Vermilion Flycatcher, and other millions of songbirds.
Cameron does not only cater for birds alone but also provides a home to a great number of wildlife such as pollinators.
Also Read: Do You Love Fishing? These Are The Top 5 Fishing Destinations of Scotland
5. Naples
A very good destination for bird watching is at the Corkscrew Swamp Sanctuary, north of Naples in Florida. Corkscrew Swamp Sanctuary serves some birds with a resting location while migrating toward the south.
Some of the wonderful species that can be seen are wood storks, rainbow-hued painting Bunting, Bald Eagles, and other predatory and wading birds. Birdwatching in this destination can be made at any time of the year.
Remember To Read: Do You Love Adventure? Here Is A List of The Top 5 Mountain Climbing Spots In The USA
Conclusion
Bird watching is the pastime of millions of people around the world, and for those who can afford it, these choice spots in America will be an engaging experience. You too can explore them this fall.